Read the Declaration of Independence, The United States Constitution, and the Bill of Rights
Click here for 5¢ window stickers!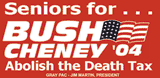 Visit GOP.com, The Republican National Committee
Congressman "Baghdad Mike" Thompson

Air Force veteran Lawrence Wiesner is challenging Baghdad Mike in the November election. Wiesner said, "Anyone who would denounce his country on enemy soil on the eve of war should be in jail – not in Congress."
The problem is voters in the First District of California don't know about Baghdad Mike's travel record.
Help us spread the word about "Baghdad Mike" in his district.